'Nomic Station

What's Different About 'Nomic Station? Computer Furniture
Most computer furniture we've seen was designed for computers and average sized people. Our problem with this is that "average" is nothing more than a mathematical abstraction, and in reality, nobody is really "average".
'Nomic Station computer furniture, has been engineered for all of us non average humans: our safety, the things we need to get done, and our aesthetic requirements. This human centered approach is the 'Nomic Station difference.
'Nomic Station computer furniture has not been designed around a particular type of material (particle board) or manufacturing process (panel processing), or to meet a "target price". (In fact, most manufacturers computer furniture actually refer to themselves as "panel processors")
The mission, modern & contemporary styles we use were chosen because they could be implemented without, in any way, compromising the function of the furniture. We manufacture in limited quantities and sell direct, so our customers can buy our solid hard wood furniture at prices that are little more than that for particle board furniture.

some things to look for in computer furniture
leg room: Look carefully at the manufacturers pictures of the product. Is there anyone actually sitting at the desk?. Are they sitting sideways? Is there enough legroom to allow you to slouch? If your looking at an armoire, is there any leg room at all? Do you look straight at your monitor, or do you sit sideways at the armoire and have to turn your neck 90 degrees to see it?
Adjustments: Are all work and equipment surfaces independently height adjustable? This is an extremely important requirement, yet most desks have only 1 or 2 surfaces with any adjustment at all, and many times these adjustments are inadequate or not independent of each other.
Access: Will all of your equipment be accessible while seated? Some desks may require you to stand up, or stretch excessively, to use your printer or other peripherals.
Standards: Does the manufacturer certify that their product meets industry and governmental safety standards from ANSI, NIOSH & OSHA? Did the manufacturer cook up their own ergonomic research, or is the designed based on published independent research?
Repair Parts: Does the desk have special metal or plastic parts, which if broken or lost, would have to be bought from the manufacturer? How long will these parts be available?
Integration: Will the desk allow you to do other things, besides operating the computer, such as reading, writing, talking on the telephone etc.? Are you looking at an appliance cart or a real desk?
Does the desk reflect the success you enjoy? or does it have a cheap, temporary look about it? Your desks appearance, does affect your work and other peoples attitude toward you.
Configuration: Is the desk a "one configuration fits all" product or can you get the desk tailored to your needs?
Seating: Can you sit in any chair you want while using the desk?
Keyboard: Is the keyboarding surface large enough for your mouse or other pointing devices? If the keyboarding surface pulls out, does it shake? Does it pull out far enough to give you plenty of legroom?
Monitor Placement: Will your monitor be located in a "tub" underneath the desk top? This is a very bad idea, an will almost surely lead to severe neck strain! If you wear bi-focals, get some computer glasses.
Support: Can you talk directly to the designers / builders of the product or must you go through a 3rd party?
Storage: Is there room for all your equipment?
Corners: Does the desk have a lot of sharp corners?
Construction: Is the computer furniture you are considering repairable if damaged? Can you touch up the finish yourself?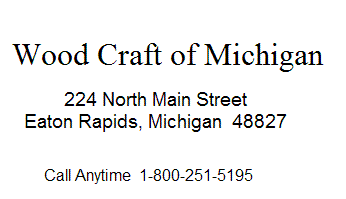 HOME FEATURES PRICES & PRODUCTS ORDER / CONTACT LINK to US

c.r. Wood Craft of Michigan 1998-2008